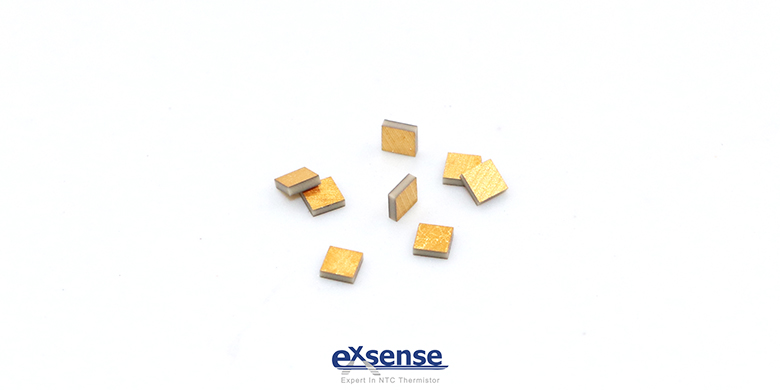 In electronic circuits, chip capacitor is used to block direct current through alternating current, as well as to store and release charges to act as filter to smooth output pulsating signal. Chip capacitor produced by EXSENSE Electronics Technology Co., Ltd. production, with the advantages of small size, thin thickness (thickness is generally 0.15~0.5mm), low loss, etc., different sizes and parameters can be customized according to customers' requirements.
Today, EXSENSE Electronics introduce a preparing method that could make higher capacitance for single layer capacitor. That is, include only two electrodes with a dielectric spacing therebetween, where such capacitors are manufactured in multiple. At the present time, capacitors of the type to which this invention relates are made with a fired ceramic dielectric which, after curing, is coated with a conductive substance on each side thereof. The dielectric is then cut into individual capacitors, leads applied, and the ceramic with conductive coatings thereon encapsulated in an insulating material.
At present, the common problem with most preparing method of chip capacitor is that the limitation of dielectric thickness of ceramics, the capacitance is limited. Therefore, ceramic dielectric must have sufficient thickness to have the required physical strength for handling both in a greenware state and in the fired state, and also which is sufficiently thick so that it will not unduly warp when the ceramic greenware is fired.
This preparing method of manufacturing single layer capacitor which enables the use of very thin ceramic spacers between the capacitor electrodes and permits a plurality of capacitors to be defined on a strip of ceramic greenware in such a manner as to decrease the possibility of leak age between the capacitor electrodes.
This preparing method of manufacturing chip capacitor, is to provide a new and improved ceramic capacitor of increased capacitance value for a given electrode area. The invention further permits the use of a plurality of single layer capacitors in one body, so that a single capacitor structure including a plurality of distinct capacitors may be connected in a circuit. Either a column or row, or even two or three capacitors may be left in an integral strip, and the capicitors connected individually in a circuit. Alternatively, some capacitors may be connected individually, while others would have their leads connected in parallel for increased capacitance.
Reference Data:
US3882059 METHOD OF MAKING CERAMIC CAPACTOR
Inventor: Gilbert J. Elderbaum, Clinton, Conn.
Assignee: Technical Ceramics, Inc., Clinton, Conn.
Filed: May 11, 1973
Appl. No.: 359,229
U.S. Cl. ................... 29/25.42; 156/89; 264/61; 317/261
Int. Cl............................................. H01g 13/00
58) Field of Search ........... 317/258, 261, 242, 246;
29/25.42; 156/89; 264/61
References Cited
UNITED STATES PATENTS
2,494,699 1/1950 Forrester........................... 371258 X
2,673,949 3/1954 Khouri................................. 317/242
3,021,589 2/1962 Weller ................................ 29/25.42
3,235,939 2/1966 Rodriguez........................... 29/25.42
3,379,943 4/1968 Breedlove............................ 371/261
3,380,854 4/1968 Robinson......................... 317/242 X
3,466,513 9/1969 Belko................................... 317/261
3,491,275 1/1970 Puppolo........................... 317/261 X
3,581,167 2/1970 Weater.................................. 317/261
3,603,850 9/1971 Kirshner .............................. 317/261
3,679,950 4/1971 Rutt...................................... 317/261
Primary Examiner-E. A. Goldberg
Attorney, Agent, or Firn-DeLio and Montgomery